Back to News
Date posted: 02/09/2021
How do you future-proof your office in a world of uncertainty?
Making your assets more flexible and sustainable by using more system walls and less drywall
Using freestanding pods as meeting rooms or phone/conferencing booths that can be reconfigured in minutes and relocated as and when you need
Integrating open-plan acoustic solutions in collaboration spaces to reduce sound without compromising open layouts
There's a certain stir in the office world as businesses rethink how their spaces will be used in the future. Although we're slowly resuming to some form of normality, the office environment has considerably changed. COVID-19 has shaken up the workplace as we knew it, and although many businesses were already a step ahead of the game in offering a flexible working model and hybrid workspace, there's many more that are feeling left behind.
It's clear from our recent Covid-19 report that we commissioned from a team of experts at University College London: 'How Businesses Can Emerge Ready for the Workforce Return?' that mid to long term there will be an increased need for varied spaces within the office floor. It's likely that less allocated desk space will be required, and replaced with more collaborative work areas to foster communication and face-to-face team time, and private booths with the rise of video conferencing.
Ultimately business leaders and the C-suite are unclear exactly how workspaces of the future will function in 3, 5 or 10 years' time, and as a result flexibility is their highest priority. Reconfigurable spaces have never been more critical, and SRP supports this fundamental change in office schemes by offering a breadth of flexible partition and open plan solutions, covering you for any scenario.
SRP is uniquely positioned in the world of partitioning and space division by providing a one-stop, extensive portfolio of products to meet any requirement. Acoustic performance is at the heart of all our products, but these solutions in particular support flexible, modular and sustainable approaches to design that can be easily integrated into any fit out.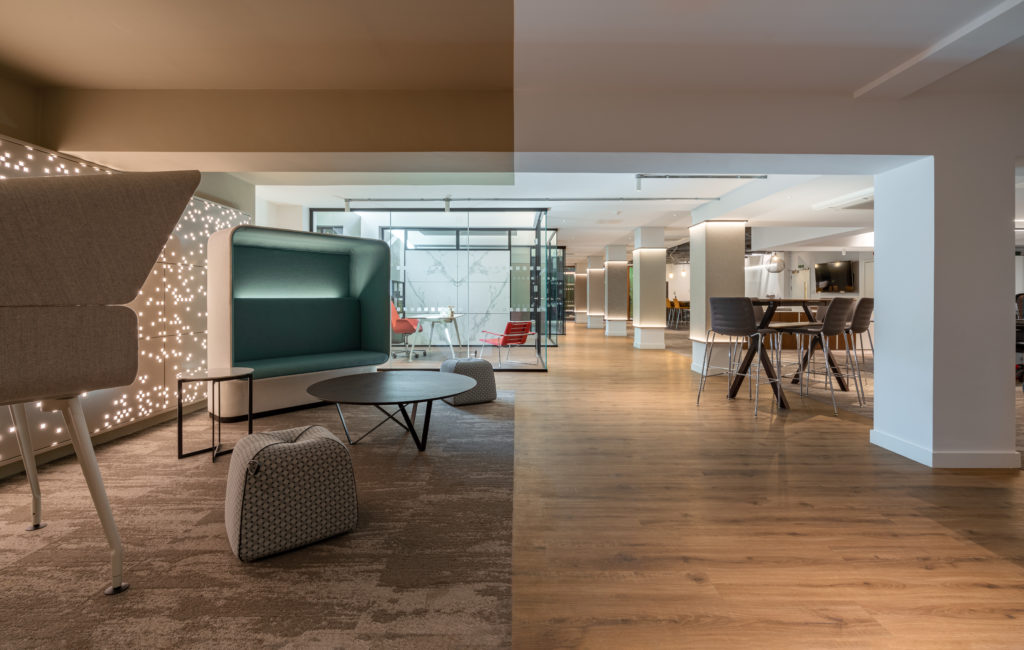 System 2000 | Reconfiguration and less to landfill
Having evolved over 40 years, System 2000 is at the forefront of future-proofing office layouts. Achieving a staggering Rw 55dB and heights up to 7 metres, this high-performing acoustic system gives you the flexibility to build dividing walls that can be demounted and moved with ease.
Whilst drywall has been the solution of choice for most companies over the last 20 years, the growing need for flexibility, long term financial savings and truly environmentally conscious solutions means this product has greater relevance than ever before.
Leading businesses wanting to adjust their spaces are becoming increasingly wary of using drywall, which makes up a large percentage of demolition and construction waste, and in turn leaks toxins and releases greenhouse gases into landfills.
System 2000 provides enhanced adaptability and flexibility that drywall can't, allowing clients to react to changes guilt-free and use their office space much more efficiently. Reconfiguration is quicker and much more cost-effective long term and in a world of increasing uncertainty, this amount of flexibility is a desirable trait in any design.
In addition to the potential for re-use and their popularity for sustainability reasons, these relocatable partitions also have tax benefits. As System 2000 is moveable, it qualifies as Plant and Machinery for the purposes of claiming capital allowances. They are listed under Section 23: List C of the Capital Allowances Act 2001 as "13. Partition walls, where moveable and intended to be moved in the course of the qualifying activity."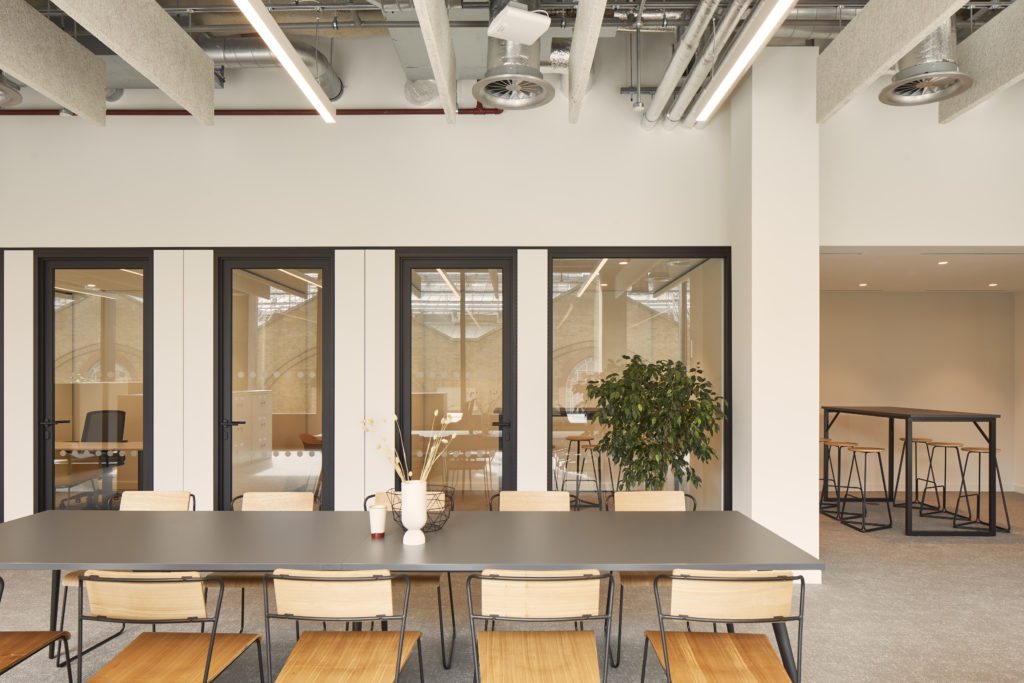 Kubus | Our award-winning pod system
If you're in need of an individual working environment or require a system for a short lease where you may want to limit the amount of building works, Kubus is your answer. These standalone quiet spaces come with LED ceiling lights and USB connections, all powered by one plug. This makes these freestanding systems super easy to relocate, so you can move it wherever you need it.
Anyone who has used a pod will know that good ventilation is vital. In order to have good acoustics and sound insulation, it's crucial that these booths are finely sealed which can often make them very warm. Kubus achieves air flow independently of building services by featuring a fully integrated ventilation and air extraction system, so all you need to worry about is the furniture.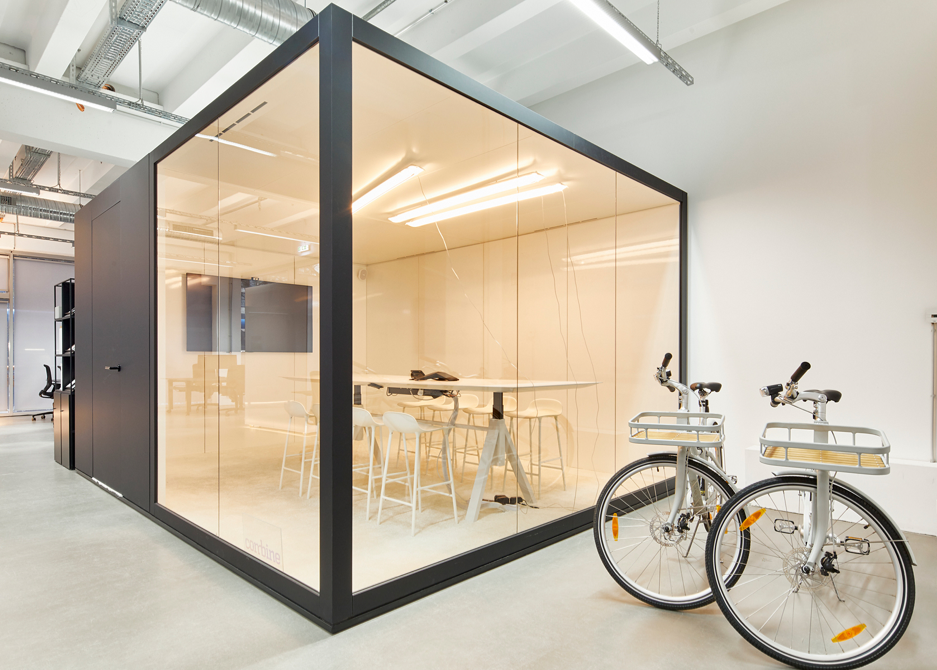 With a vast variety of materials, finishes and sizes (single, double, 4 or 6 pax), these pods can be easily integrated into your design. Designing a flexible, sustainable but private space for C-suite? The compact dimensions of Kubus guarantees an efficient use of space, with these sound-insulating retreats also reaching Rw 42dB.
The pods can be reconfigured in minutes, so you can flip your office into a meeting room and vice versa. They're a perfect sanctuary for individual workspace, small team meetings, making phone calls and holding video conferences undisturbed.
System 7400 | Open plan acoustics, the future of office design
Whilst meeting rooms, collaborative areas and private pods are all key components of a hybrid work environment, traditional, open-plan desk space remains an essential feature. Yet these areas of an office can often be one of the most distracting.
As businesses are generally encouraging their workforce to be more spread out and socially distanced, conversing and concentrating in open plan spaces is becoming more difficult. This is magnified by the increase in video conferencing and use of headphones, which means employees are using louder speech across these areas. In addition to this, many companies are using more smooth and hard surfaces in office design as a defence against future viral outbreaks, which creates increasing acoustic problems due to the lack of absorption.
System 7400 preserves the open nature of an office but controls the sound waves that can interrupt desk workers. This is achieved by acoustic absorbers at low level that disrupt the path of sound to create acoustically separate zones. High level glazing then creates an acoustic barrier without compromising the openness and transparency of the open layout.
This means that employees can enjoy a video conference call without a headset from their own desk, with minimal disruption to others around them, making the open office a much more user-friendly environment. You can also protect noisier departments from those that are more quiet.
Once again, these screens are a sustainable and flexible option to creating acoustic layouts, as they can be repeatedly demounted and rebuilt wherever you wish, with short assembly times and minimal components.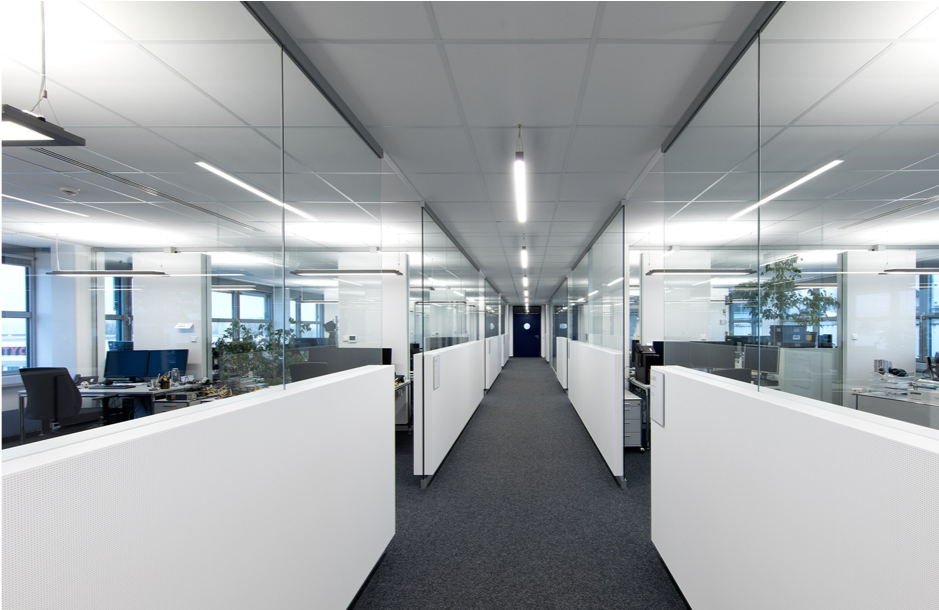 All of our systems can be integrated with each other to create a bespoke solution to meet your requirements, design and budget. Find out more about our full portfolio of acoustic partition systems here.
If you're considering how best to future-proof your office, get in touch with us to find out more or visit our Acoustic Studio in Clerkenwell to see and test our products in person.
Image credits:
ⓒ Gavriil Papadiotis | SRP Acoustic Studio, Clerkenwell
ⓒ Ed Reeve | System 2000 in 100 Liverpool Street, London
ⓒ Laura Thiesbrummel | Kubus I Team in Combine office, Berlin
ⓒ Huber Fotodesign | System 7400, Pilz Ostfildern